Tomcat RIO by Dave "Bio" Baranek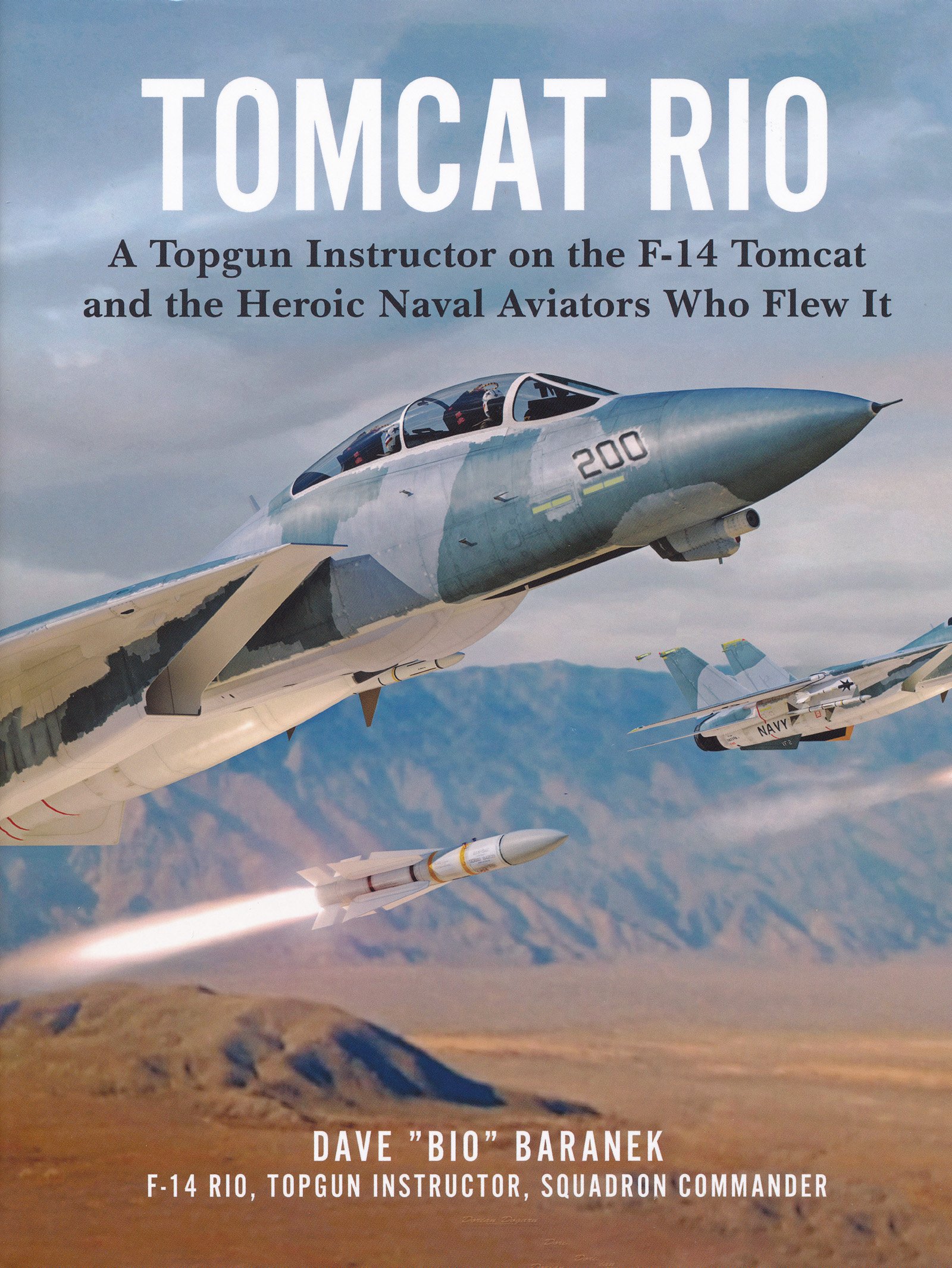 "Tomcat RIO" is the latest book to be written by former USN F-14 Tomcat Radar Intercept Officer (RIO) Dave Baranek.
In his new book, Bio regales us with more tales of Naval Aviation adventures and excitement, and goes more into the personalities and misadventures he experienced.
From Topgun to Squadron Command
You're in the cockpit of the legendary F-14 Tomcat fighter, blazing along at twice the speed of sound seven miles above the ocean. You're practicing aerial combat with adversaries in F-16s, and those you don't kill – remove with a Phoenix missile – you have to get the old fashioned way — dogfighting.
You're patrolling the tense skies above Iraq, now armed not only with air-to-air missiles, but also the precision bombs that make the Tomcat a versatile strike-fighter.
Sounds like a week's worth of daydreams, but it's all real-life in the career of Dave "Bio" Baranek, and he shares it with you in the exciting, superbly crafted new book, Tomcat RIO.
Join him as he experiences the highlights of Navy fighter ops and deals with the risks that are an aviator's constant companion.
Bio shares his thoughts and experiences on rising to the coveted assignment of fighter squadron command, where he is responsible for 300 people. And he doesn't whitewash the story, he talks about system failures and challenges associated with keeping the jets flying.
Dave – callsign "Bio" – pulled his readers into the exciting world of the F-14 and the Navy's TOPGUN program with his popular books Topgun Days and Before Topgun Days.
Now he's back with the rest of the story, as he reaches the top level of expertise and proves it, not just in graded competitions but also where it counts, where you shoot at them and they shoot at you.
Dave also shares the challenges he faced. A deadly foe called complacency. Learning a whole new mission late in his career. The unexpected trials that come with leading a squadron in the dynamic environment of Naval Aviation.
This third volume is full of adventures, lessons, and inspiration. If you're a casual reader, you'll turn the last page as a dedicated Tomcat fan. And if you are already a fan of the Tomcat, you will enjoy the insights and references that come from one who was intimately involved in the community.
To make it all even more real, Tomcat RIO includes dozens of Bio's best and most acclaimed photos. Photographer George Hall hailed one shot as "one of the best Tomcat photos ever taken."
In words and pictures, Bio immerses you in rich detail. You feel like a member of an F-14 squadron. You share the camaraderie of Type A personalities. You go to Key West and El Centro on training detachments. You plan risky missions, going toe-to-toe against America's most volatile foes. You can almost smell the pungent jet exhaust, almost feel the gut-wrenching G's of a dogfight, as Tomcat RIO pitches you into the thick of it as only Bio can tell it.
Strap in! You're going for one fantastic ride.
Order Tomcat RIO
To order your copy of Tomcat RIO, click here to visit Amazon today!