Last Full Measure of Devotion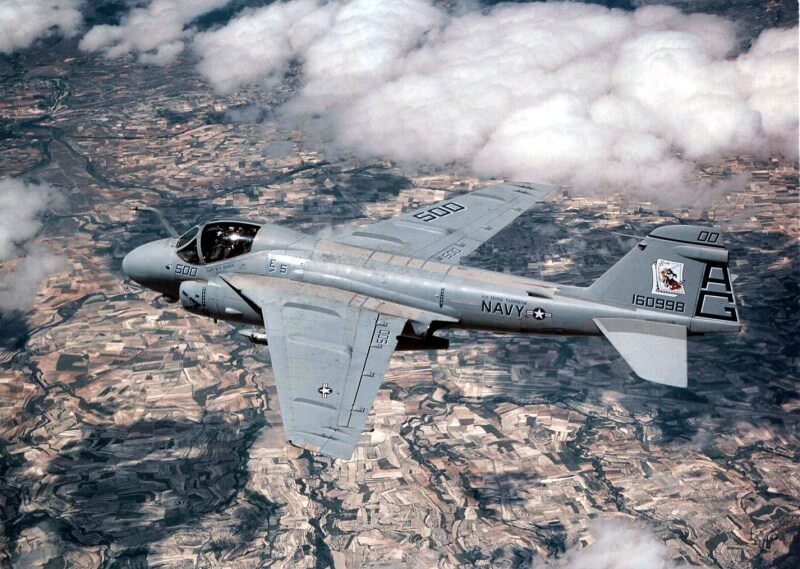 This Monday is the observance of Memorial Day. For those of us who served and those who have family who served, it is a day we set aside for the intended purpose: to pass some time in remembrance of the ones we knew and loved who perished while in service to their country. For me, it is a day of specific rather than general observance. I spend a few moments recalling, individually, the men and one woman I knew who are no longer with us.
Naval Aviation is an unforgiving business. In my twenty years of service, I lost an average of one friend or colleague per year. Each loss was shocking and painful. Each memorial service was gut wrenching; however, some hit closer to home than others, gouging out a slightly bigger piece of your soul.

As a young pilot I had the privilege to be in the same A-6E Intruder class as LTJG Grady "Gradymon" Hackwith. It was a great class of pilots and bombardier/navigators, full of characters and outlandish personalities. Grady and I became fast friends almost immediately despite our cultural dissimilarities. He was a country boy from Shreveport; I was a Yankee from the northeast and that's where our differences began.
We spent a lot of time hanging out together in the air and on the ground. Drinking shameful amounts of beer, listening to those renegade new bands Nirvana and Pearl Jam, and spending our weekends making the commute to Seattle to hang out with my fiancée and her roommates. It was a great way to be young: jet fuel during the week – music, drink and friends on the weekend.
As students in the A-6 RAG, we got to fly together probably more than we should have been allowed to. It was a fairly remarkable thing to have my best buddy literally by my side when I experienced the thrilling horror of my first night trap. After we graduated we couldn't believe the Navy was stupid enough to send us to the same squadron.
A few months later Grady was a swordsman at my wedding. It was one of the most wonderful nights of my life.
Ten days later when my bride and I landed from our honeymoon, a friend unexpectedly met us at the airport.
I can still remember the feeling in my chest when he told me Grady had died in a crash during a low level training flight three days earlier.
Grady's father, Dean, and I began to correspond via email a few years ago.
Like Dean, I have only one son, and like Dean, I treasure him dearly. This is a note I sent him after he made a kind comment about a photo of my boy, from one loving father to another:
Dean,
I can only imagine your pain. I loved your son like a brother, and I grieved deeply when he was gone. Having a son of my own now, I can just glimpse what you have been dealing with for the last 21 years. I often think about how I would react if Z decided he wanted to be in the military. On the one hand, I would be so proud he was in uniform to protect his country. But we are so similar, and I know the fickle hand of fate has zero regard for courage, intelligence and bravery. I saw it first hand too many times. I feel like I used up all the luck, all the cat's lives in my family.
Grady was a great friend. A brother, like I said. I carry him with me every day. His picture is in my office. His miniature gold wings are on the inside pocket of my leather flight jacket. When I fly the Yaks, I wear his old Ray Bans. I think a lot of the adventures we would have had. It was a blessing to go through the A-6 RAG with him at my side, literally, in the same plane very frequently. We were crazy, but just the right amount. Not reckless, just pushing the boundaries, seeing how far we could stretch our wings. We were a great crew. Solid. We could have flown into Baghdad or Moscow all alone at tree-top level and won the war single-handedly. Easy.
I loved having him in my wedding. When we look at the pictures, or show the kids the album, I always watch him, or look for his smiling face. I think about how I would have gone to his wedding one day. How we would have gotten stinking drunk at the bachelor party and told awesome lies about how we had stormed all over the world and left a trail of broken hearts and havoc. I think about who he would have married. He was in love with all of Hillary's friends in Seattle. And they loved him. He would have had his pick and it wouldn't have been easy. I think about how our kids would have learned from our two different worlds. Hunting, skiing. Music, computers, camping and flying.
Our friendship was just getting started but it felt like there was a long road ahead and a good friend to share it with. For a long time after his accident I had fearful thoughts while I was flying. It's the only time in my life that's ever happened, even after my own crash. It was strange, like a limb was missing but I could still feel it and it was throwing me off, shaking my confidence. It was a huge hole.
He made me laugh so much. I think we made each other laugh. It wasn't too hard, a couple of knuckleheads stumbling though a great adventure, watching out for each other's backs. Invincible.
I know a week from today is the 21st anniversary of the crash. It must pierce you anew each year. But I also am quite sure that he is looking out for us. I survived a few scrapes flying planes where I thanked him directly for leading me back home. I could feel him sitting on my shoulder, laughing at me. Please know that next Wednesday you're not alone in your remembrance. I'll be tipping back a sip of something fiery and winking at the clouds.
Take a moment this Monday to reflect on those individuals who gave their last full measure of devotion while in uniform.
~Paco Chierici
---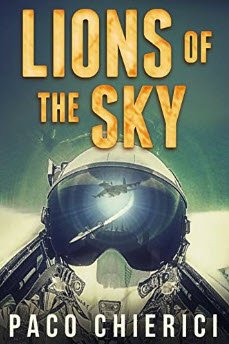 ---
Editorial Reviews
Paco Chierici has written a humdinger of a book. Through vividly drawn characters, he takes us inside a Navy fighter squadron showing their incredibly difficult day to day lives, including the obstacles women still face in this tight knit community.
…a terrific window into a world very few people see.
—The Honorable Ray Mabus, 75th United States Secretary of the Navy
I was BLOWN away! Paco put me right back in the cockpit and the Ready Room. Lions of the Sky is intense, and personal, and thrilling, especially the ending. A must read!
— Lea Gabrielle. Journalist and F/A-18 Naval Aviator
In this fast paced, riveting and suspenseful novel about superpower conflicts, Paco vividly depicts the heroism of Navy pilots from training to deployment. His strong story telling skills propel readers from zero to 450 knots in the very first few pages. Throughout, Paco presents a profound and dynamic view of the dangers of war and the challenges the Navy has in integrating women, fully, and equally into the most elite portion of our armed forces—Carrier Fighter Pilots. This is an outstanding read and one I very highly recommend.
—Max Kennedy, Editor of Make Gentle the Life of This World: The Vision of Robert Kennedy, and author of Danger's Hour: The Story of the USS Bunker Hill and the Kamikaze Pilot Who Crippled Her.
Francesco "Paco" Chierici made flying some of the U.S. Navy's most treacherous fighters look easy. But it's his deep and lasting infatuation with that deadly aerial artistry — and his ability to describe it so accurately and vividly – that set him apart as an aviator, a documentary film producer, and writer. Paco's eye for detail, salty irreverence, and skill as both an aviator and a writer, make this fictional work very real. Strap in for an unforgettable ride.
— Dave Hirschman, Author of Hijacked – The True Story of the Heroes of Flight 705, and AOPA Pilot Editor at Large
Paco is one of the best pilots I know, and a damn good storyteller. Lions of the Sky is gripping, fast paced, and authentic. If you want a real, edge of the envelope thriller, look no further!
— Brandon Webb former Navy SEAL, pilot and New York Times Bestselling author.
An experienced fighter pilot, Paco Chierici knows what he's writing about here. Fans of military fiction, strap into your favorite ejection seat and get ready for a high speed, G-pulling, missile-shooting thrill ride.
— Ward Carroll, author of Punk's War, Punk's Wing, and Punk's Fight
Paco Chierici's debut novel is an unforgettable story of pride, lust, loss, betrayal and redemption…set today in a carrier-based fighter squadron in combat. Timely and gripping, Lions of the Sky is an exciting supersonic techno-thriller with well-written g-spikes of human drama that kept me turning the pages. Strap in and arm your seat!
— Kevin Miller, bestselling author of the 'Raven One' trilogy
A high-octane blend of seawater, adrenaline, and human drama. LIONS OF THE SKY comes off the deck with afterburners roaring and never lets up.
— Jeff Edwards, bestselling author of 'Sea of Shadows' and 'Steel Wind'
Want More Military Aviation Goodness?
Join us in our private Facebook group where you can enjoy the company of other likeminded military aviation fans, including a growing number of former & current military pilots, Radar Intercept Officers (RIO's) and Weapon Systems Officers (WSOs).
Plus, get access to our videos and livestream content, all free of charge.
Click this link or the photo below to join.