RIP Dale "Snort" Snodgrass – Naval Aviator Par Excellence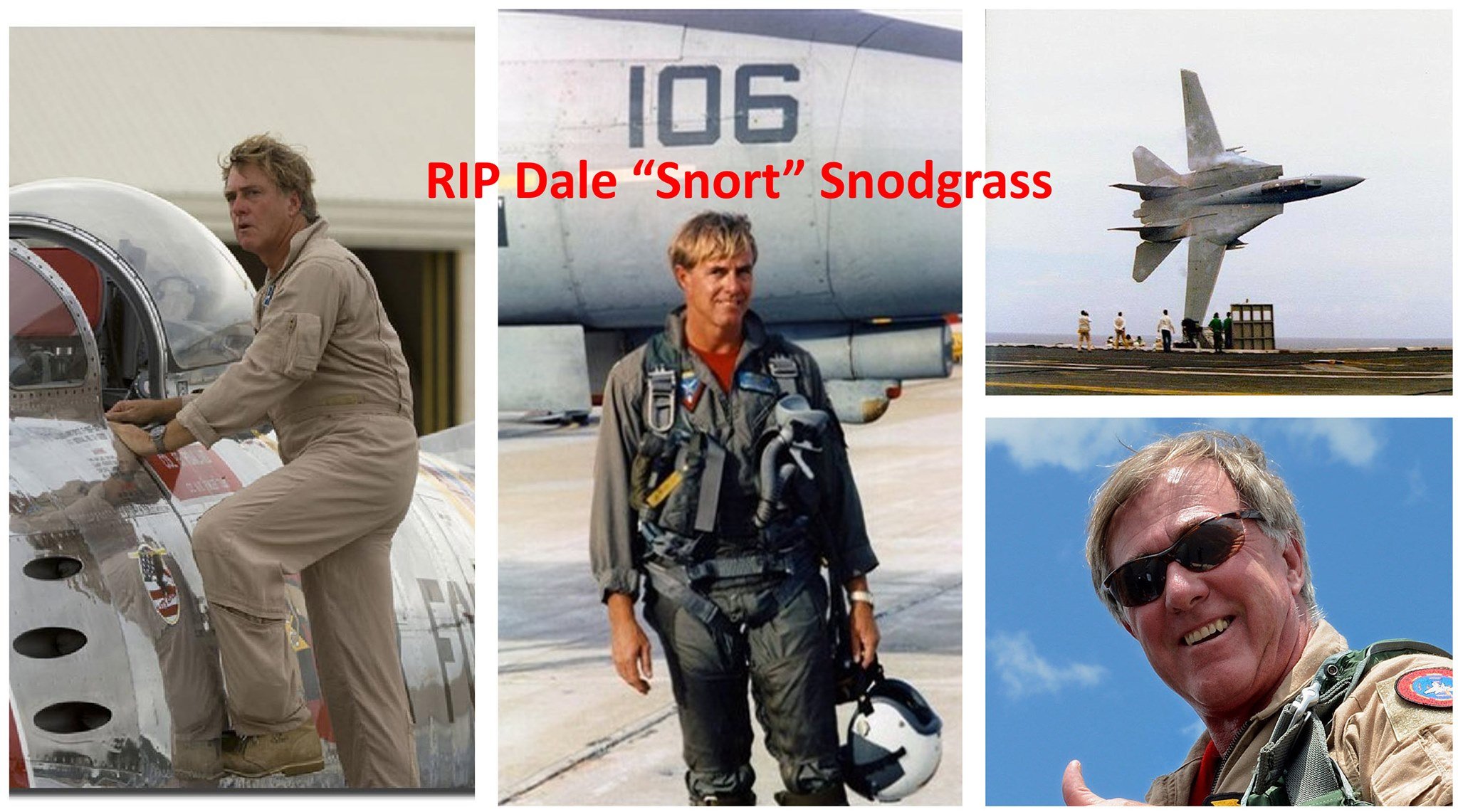 By now, most of you would know that Snort has sadly passed away due to an aviation accident.
Not only has the F-14 Tomcat community lost one of its best, but Naval Aviation (and aviation in general) have also lost a superstar.
If you don't know much about Snort and what made him famous, then check this "resume" of his, written by Roberto Roux.
A Minute of Silence the World of Aviation Lost a Legend.
Capt. Dale "Snort" Snodgrass
Legendary Grumman F-14 Tomcat Pilot in the US Navy & Air Show Performer.
A Real TOP GUN
One of the first two Navy Flight School Graduates to be Selected for F-14 Tomcat Training.
Navy's Fighter Pilot of the Year in 1985.
Selected by Grumman Aerospace as "TOPCAT OF THE YEAR" – Best F-14 Tomcat Pilot in 1986.
The Highest Flight Time F-14 Pilot in history:
4,900 Hours
7,800 hours in Fighters
1,287 Carrier Arrested Landings.
12 operational Fighter Squadron/Wing tours.
Navy Fighter Weapons School Graduate and Instructor (TOPGUN).
Date of Designation: December 1973
Dates of Active Duty: August 1972 – June 1999
26 Years of Decorated Naval Service.
Capt Snort was awarded honors including a Bronze Star for Leadership and Valor.
Awards:
3 Legion of Merit for superior performance in positions of great responsibility.
1 Bronze Star for Leadership and Valor during Desert Storm.
3 Meritorious Service for exceptional service in the position of Senior Leadership.
3 Air Medal for Valor during Desert Storm, (1) Strike.
3 Navy Commendation Medal,
Various Service and Campaign Ribbons and Award.
Combat Tours:
January – February 1991.
During "Operation Desert Storm" Capt Snort was Commanding Officer of Fighter Squadron 33 (VF-33), USS America, leading 34 combat missions (F-14), as Overall Strike or Fighter Lead.
In September 1994 he became Commander Fighter Wing US Atlantic Fleet, Commander of (14), US Navy F-14 Tomcats Squadrons totaling over 300 aircraft and 5,000 personal until 1997.
Commands:
CO VF-33, November 1989-February 1991 Commander Fighter Wing Atlantic, August 1994-January 1997
Duty Assignment Chronology:
Flight Training Pensacola, FL., Student Naval Aviator.
Sep-Dec 1972
VT-23 / VT-21 Kingsville, TX., Student Naval Aviator.
Jan-Dec 1973
VF-126, Instrument Instructor Pilot.
Jan-Jun 1974
VF-124, FRS Student.
June 1974-March 1975
VF-142, First tour Pilot.
April 1975-May 1978
VF-101, Instructor Pilot and Landing Signal Officer (LSO).
June 1978-June 1981
CVW-8. LSO.
July 1981-July 1983
VF-43, Operations Officer.
August 1983-December 1985
VF-101, Re-currency training.
December 1985-February 1986
VF-143, Operations Officer/Maintenance Officer.
February 1986-February 1988
VF-101, Executive Officer. (XO).
March 1988-December 1988
VF-33, XO/ Commanding Officer.
January 1989-February 1991
USS Theodore Roosevelt, Navigator.
March 1991-March 1993
OPNAV N88, Training Aircraft Requirements Branch Head.
April 1993-April 1994
COMFITWINGLANT, Commander
April 1994-January 1997
Head OLA – Head US House of Representatives Office.
February 1997-June 1999
12 years flying the Grumman F-14 Tomcat for the US Navy Tomcat Demostration Team within the airshow circuit dating from 1985 to 1997, reaching 400 military demonstration flights, this being an unprecedented record number of Demo flights representing the US Navy.
In his retirement, Capt Snodgrass would go on to fly some of the world's most legendary aircraft on the air show circuit:
F-86 Sabre
Mig 15 Fagot
Mig 17 Fresco
L-39 Albatross
MS760 Paris Jet
P-51 Mustang
F4-U Corsair
P-40 Warhawk
T-6/SNJ Texan/Harvard
8KCAB Super Decathlon
Due to his vast experience in formation flights, in 2011 he was designated the only pilot approved to fly in both the Air Force Heritage Flight Program and the Navy Legacy Flight Program, which made him in the one of only nine civilian USAF Heritage Pilots.
Chief Pilot and a founding member of DRAKEN INTERNATIONAL, the famous commercial adversary service provider.
Famously photographed in a knife edge pass close to the USS America aircraft carrier in 1988.
At 12:11 p.m. last Saturday 24 of July 2021, a small plane crash at the Lewiston-Nez Perce County Regional Airport in Idaho, for those who knew the registration or tail number they knew it was Capt. Dale O. "Snort" Snordgrass plane a Yellow SIAI-Marchetti SM.1019 an Italian STOL liaison monoplane built for the Italian Army, and based on the Cessna O-1 Bird Dog, who was also distinguished by the Korean War era VF-33 Tarsiers patch featuring "Minky", a Tarsier monkey in the tail of the aircraft.
The squadron called themselves at that time the "Tarsiers", which was a fierce monkey.
The squadron affectionately called their Tarsier "Minky".
In 1987, the Squadron VF-33 abandoned "Minky" and changed their name from Tarsiers to Starfighters, which was their radio callsign. The new patch featured a large star with a head-on view of a Tomcat, from January 1989 to February of 1991, Comander Snodgrass, was VF-33 Starfighters, XO/Commanding Officer.
I am honored to have met Captain Snodgrass and seen him fly the Grumman F-14 Tomcat and many other aircraft in recent years, as well as being able to capture him with my camera lens during one of his F-14 Tomcat Demo Fight.
Born in 1949, Captain Dale "Snort" Snodgrass, left this world at the age of 72 doing what he really liked to do and what he most enjoyed in his life "Flying".
Courage and strength in this difficult moment of life for those who knew him most closely in the Tomcat Community for his distinguished and appreciative family, especially for his wife Cynthia Snodgrass, for his colleagues in his professional military carrer in the Navy, and for his civilian colleagues after his retirement and for his great friends.
The loss of this Great Pilot is the return of a Giant and Beautiful Angel who will Reinforce the Sky with his Greatness.
"Fair Winds and Following Seas"
All my respect for you Sir.
Salute Commander Snodgrass.
Roberto "Kanga" Roux