Operation Earnest Will: F-14 Role in Escorting Oil Tankers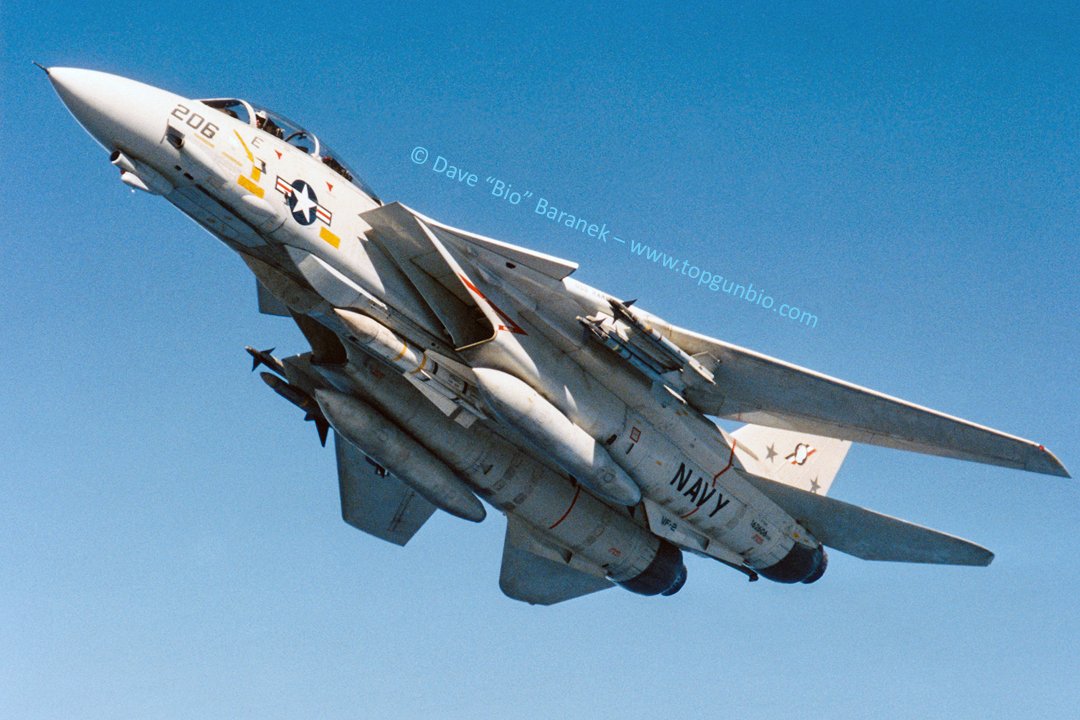 During the 1987 deployment of the aircraft carrier USS Ranger (CV-61), the battle group spent several months in the northwest portion of the Indian Ocean, known as the North Arabian Sea, supporting oil tanker escort under Operation Earnest Will [note 1].
The actual tanker escort was carried out by US Navy surface combatants such as frigates and destroyers, which steamed in convoy with tankers through the Strait of Hormuz and in the Persian Gulf, northbound and southbound. They were supported by: US Navy carrier-based aircraft, which provided the capability to respond immediately to any acts of aggression; US Air Force AWACS and aerial refueling aircraft; and specialized US Army helicopters [note 2].
I was an F-14 Tomcat Radar Intercept Officer (RIO) assigned to the Bounty Hunters of Fighter Squadron 2 (VF-2), and these photos show some of the tools our Tomcat squadron used to support the mission. The explanation is below each photo.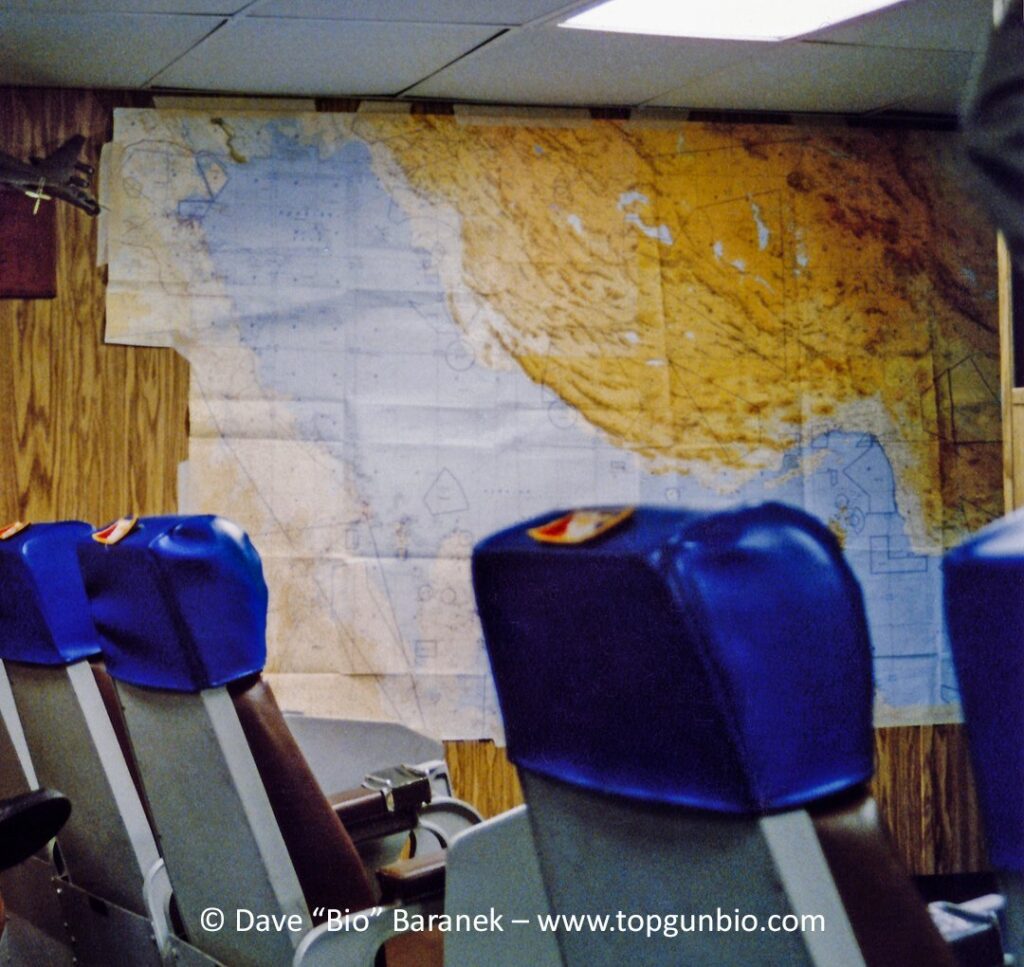 We taped these charts together and posted them in the ready room so we could look up the names and locations discussed in flight briefings and mission planning. After a few flights, we all became familiar with the area.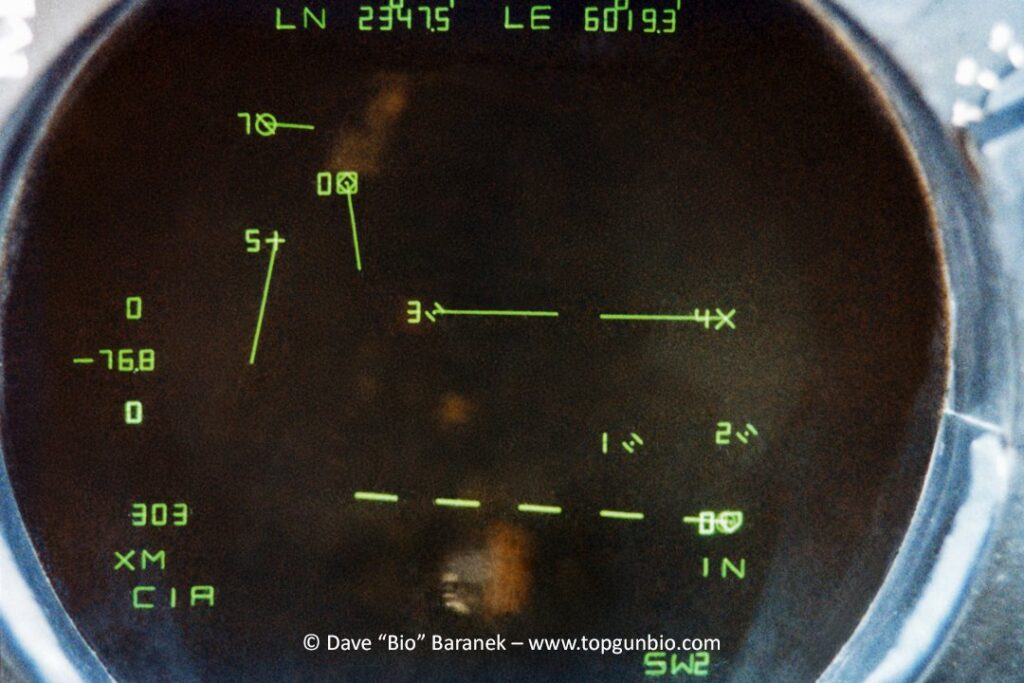 In the days before moving maps, this was a good way for F-14 aircrews to maintain SA: the RIO manually entered latitude and longitude of certain locations, in this case I chose points along the coast. I then assigned them a speed and heading to create a vector (the "stick" coming out of some points). I took this photo on deck before launch. My location was at the "0" at lower-right. Points 1 and 2 were our CAP stations that day; 4 was a town along the southeastern coast or Iran; 3 was Jask; 0 may have been Kuhestak; 7 was Qeshm; 5 was a point on the UAE peninsula.
Several people associated with the DCS F-14 sim have asked about this, and I can't say whether or not it is possible in DCS. As you can see, we were able to do it in the actual jet.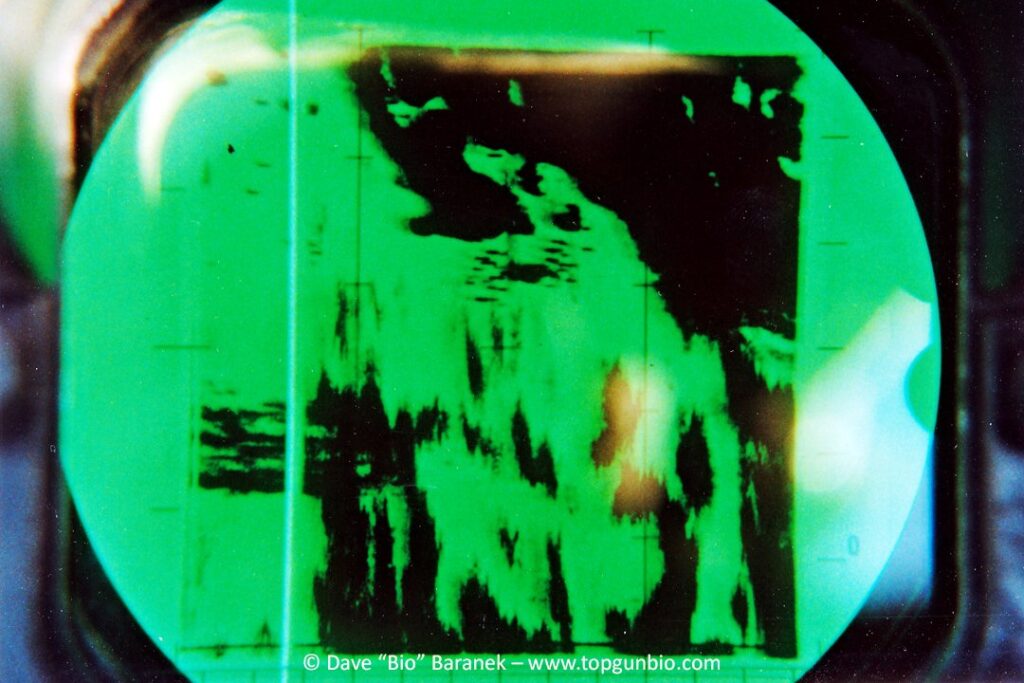 This is a view of the Detail Data Display (DDD) while airborne, looking NNE into the Strait of Hormuz using Pulse Search, 100 nm range scale. The large blob top-center was Qeshm Island.
The feature photo at the top of the article shows the machine VF-2 (and sister squadron VF-1) used to support Earnest Will: the F-14A Tomcat. If you look closely you can see we carried six missiles: 1xAIM-54C, 2xAIM-7M, 3xAIM-9M. I took this photo sometime during the period Sep-Nov 1987, while USS Ranger was on station in the North Arabian Sea. (The entire deployment lasted from Jul-Dec 1987.) I don't recall the asymmetric loadout being a concern for pilots. Carrying one Phoenix was a good compromise. We knew that on any mission it was unlikely we would be launching a missile, but having one at least gave us AIM-54 capability. Each AIM-54 required a trade of 1,000 lbs of fuel when we returned for landing. Fuel on the ball was always a consideration, since our max trap (maximum weight for recovery) was 51,800 lbs in those days, as I recall. Somewhere along the line it was raised to 54k. So, more missiles meant less fuel, and less fuel meant fewer options in terms of a delayed recovery, a bolter, or anything like that.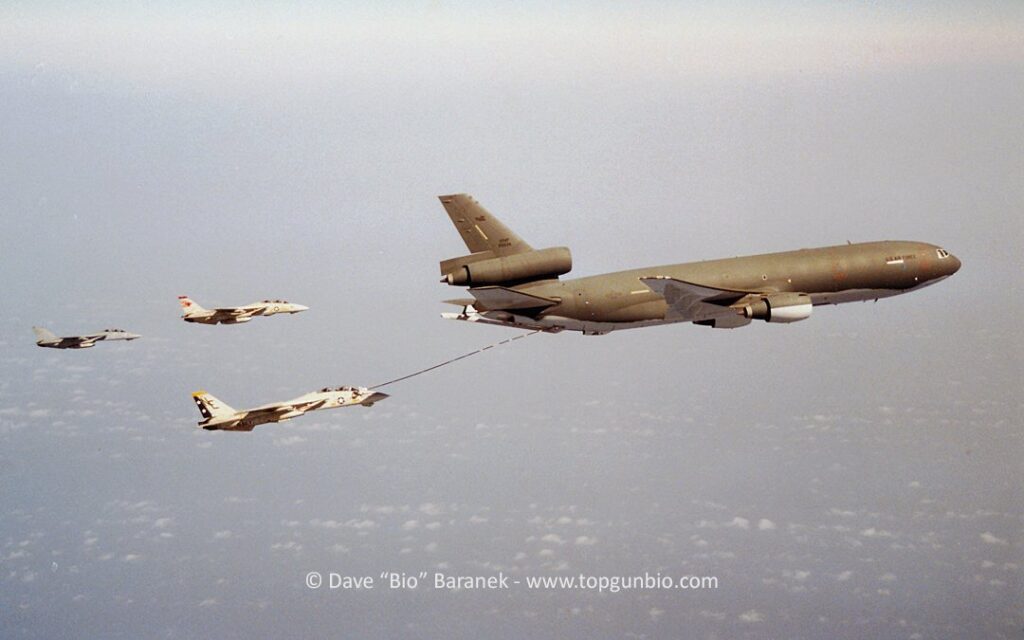 F-14s from VF-2 and VF-1 tanking from a USAF KC-10. I checked my logbook for this part of the deployment and most of my flights were 2.1 or 2.2 hours — typical for carrier-based flights in the F-14 in the 1980s, in my experience. But I have several that were 3 to 4 hours; those would probably have been extended to ensure coverage with airborne aircraft instead of launching a new event. We hit the tanker on basically every flight from the carrier, even the 2 hour flights. If they were routine ops we may only get "practice plugs" — plug in but the tanker doesn't transfer fuel. But for Earnest Will support, we kept our fuel level pretty high so we had a "combat package" in case we needed to respond to anything. We had tanker great support, mostly USAF KC-10s. In Air Wing 2 in 1987 we also used our own S-3 and A-6/KA-6 tankers.
Author Dave "Bio" Baranek's latest book Tomcat RIO is now available. This article adds to information presented in Chapter 6: Operation Earnest Will.
NOTES:
1. Earnest Will. The following notes are pasted without comment from the Wikipedia article, Operation Earnest Will, accessed 5 January 2021. They explain the background of Operation Earnest Will:
During the first four months of 1987, Kuwait turned to the superpowers, partly to protect oil exports but largely to seek an end to the war through superpower intervention. In December 1986, Kuwait's government asked the Reagan administration to send the U.S. Navy to protect Kuwaiti tankers against Iranian attacks. U.S. law forbade the use of navy ships to escort civilian vessels under a foreign flag, so the Kuwaiti ships were re-registered under the U.S. flag.
The full article provides interesting information on several related ops.
2. For a more complete account of Earnest Will, which goes into detail about the Army helicopter operations and many other aspects of US ops in the region, see the book Tanker War: America's First Conflict with Iran, 1987–88, by Lee Allen Zatarain.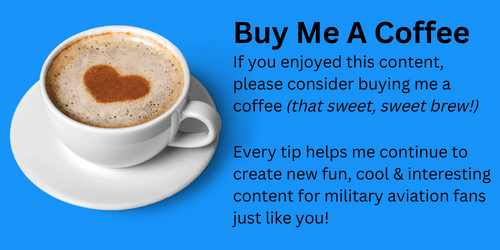 Want More Military Aviation Goodness?
Join us in our private Facebook group where you can enjoy the company of other likeminded military aviation fans, including a growing number of former & current military pilots, Radar Intercept Officers (RIO's) and Weapon Systems Officers (WSOs).
Plus, get access to our videos and livestream content, all free of charge.
Click this link or the photo below to join.