VF-2 Bounty Hunters and Miramar F-14 Awards in 1987-88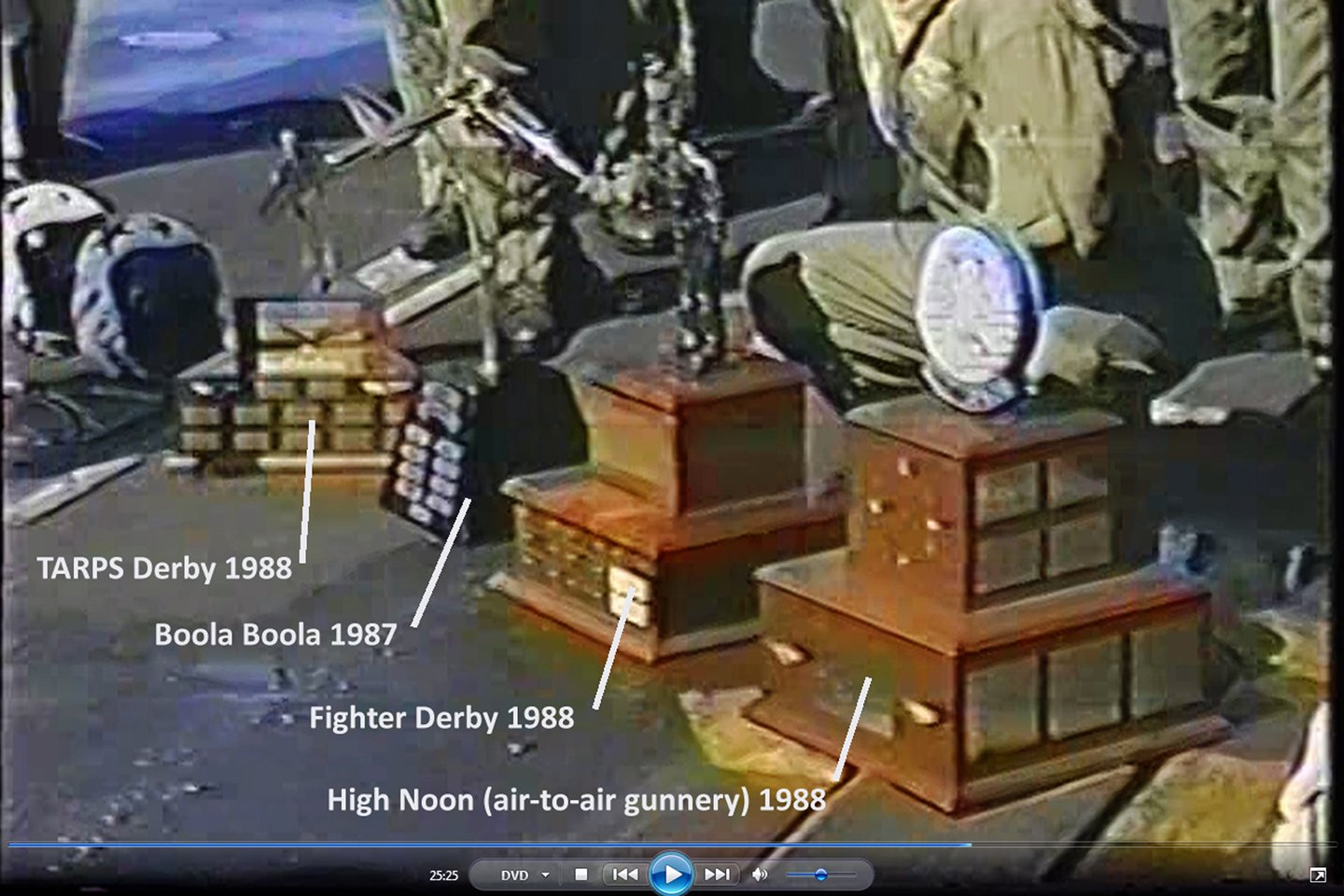 At the completion of my tour as a Topgun instructor, I went through a short refresher course in the F-14 training squadron and then reported to Fighter Squadron 2 (VF-2). When I joined the Bounty Hunters (squadron nickname) in June 1987, our Tomcats wore the letter "E" on the forward fuselage in recognition of winning the 1986 Battle E for West Coast F-14 squadrons. The Battle E was one of the highest honors for a squadron — an official Navy award presented to ships, aircraft squadrons, and other units based on competitions and inspections. The letter stood for efficiency; it was later changed to effectiveness.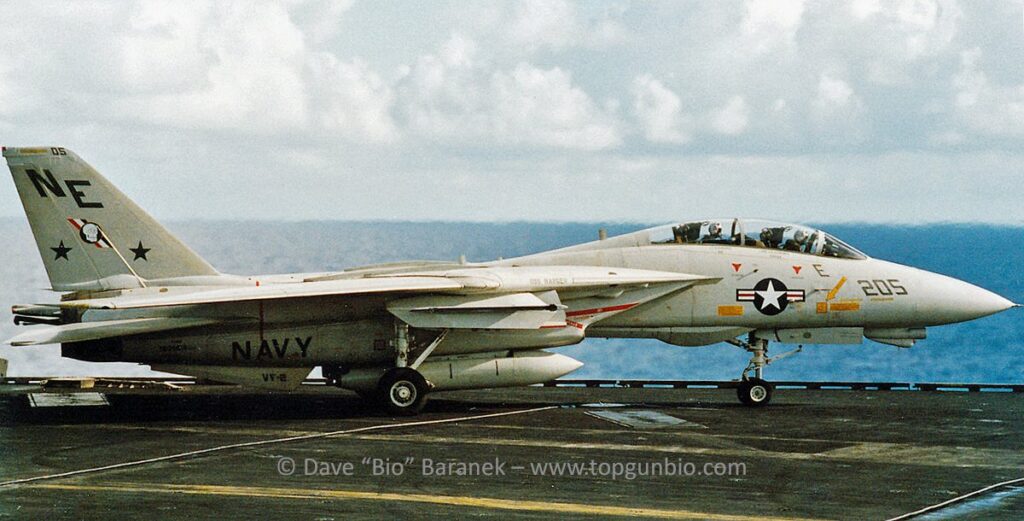 We also proudly displayed the Mutha trophy in our ready room at NAS Miramar and aboard USS Ranger. The Mutha was an unofficial West Coast award that had been handed down from the F-8 community to F-14s, awarded for the most colorful or most spirited squadron. We guarded the Mutha trophy carefully because stealing it was a common goal among the other fighter squadrons at Miramar. In addition, my squadronmates wore one or two Boola Boola patches on their flight jackets in recognition of the squadron's top performance in air-to-air missile shoots: VF-2 won the Boola Boola award in 1985 and 86.
The Bullets had a strong history in competitions, and as an experienced RIO I was ready to contribute. Soon I was able to add a new patch to my flight jacket because VF-2 won our third consecutive Boola Boola award in 1987. But we were deployed for half the year in 1987 and didn't even complete for some awards. ("Bullet" was our radio callsign. Like many squadrons, we referred to ourselves using either the squadron nickname or radio callsign.)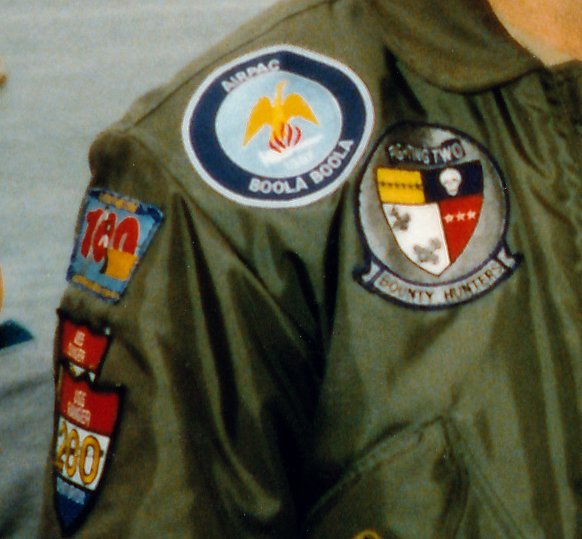 After returning to NAS Miramar from the Indian Ocean we weren't scheduled to deploy again until 1989, so it looked like 1988 would be a good year. We planned to participate in every competitive event. Aircrews prepared through training and we were supported by a strong team in the Maintenance Department. Here's a summary of the major events and our results:
TARPS Derby: Named for the F-14's Tactical Air Reconnaissance Pod System (TARPS), this involved several aircrews receiving short notice guidance to plan and fly a challenging route and get target photos at the end. Their TARPS film was evaluated for filming the target on time and according to specifications. RESULT: VF-2 won in 1988.
High Noon: This was an air-to-air gunnery competition, shooting at a banner towed by another aircraft. Maintenance personnel in VF-2's Avionics/Weapons Division made important contributions by aligning our 20mm cannons and our head up displays (HUD). The aircrews read the rules carefully and pilots were disciplined in squeezing the trigger. Observers kept track of bullets loaded and bullets fired, and counted hits in the banner after a flight. RESULT: VF-2 won in 1988.  
Fighter Derby: A measure of tactics and aircrew performance, as well as weapon system operation, this consisted of aircrews running a single 2vUNK intercept to engagement on the Yuma TACTS range. As part of our preparation, VF-2 pilots and RIOs painted our light gray jets in temporary flat gray camouflage. RESULT: VF-2 won in 1988.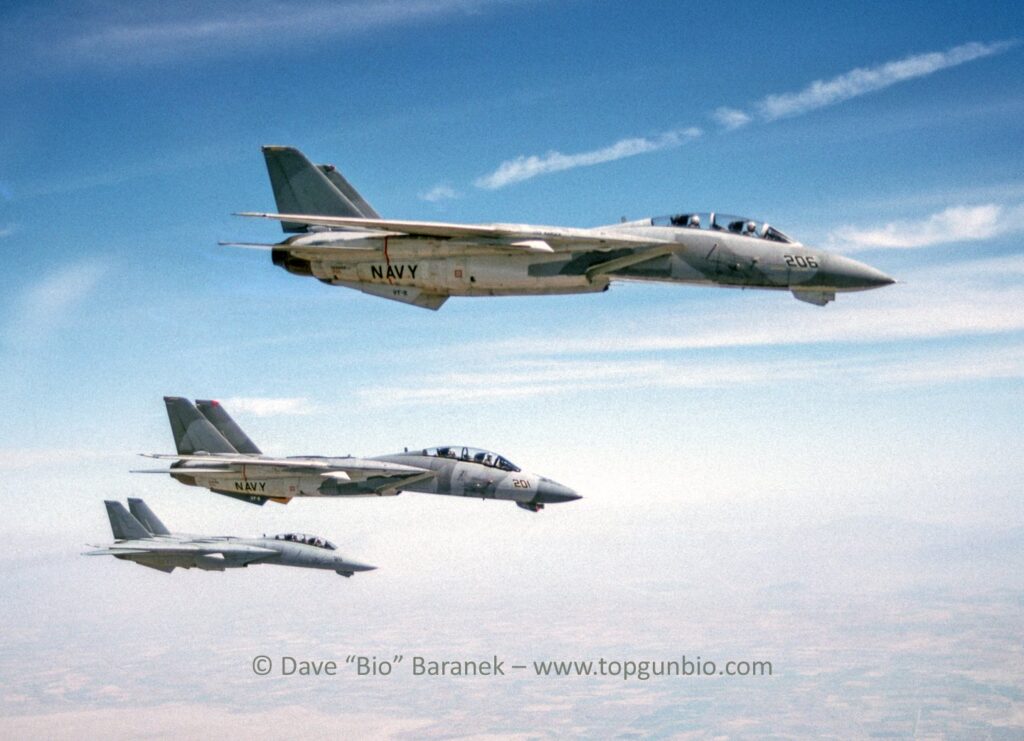 When the results were announced at the end of 1988, the Bullets had a lot more hardware for our trophy case. We also had t-shirts made up listing these accomplishments. Hey, it's not bragging if it's true.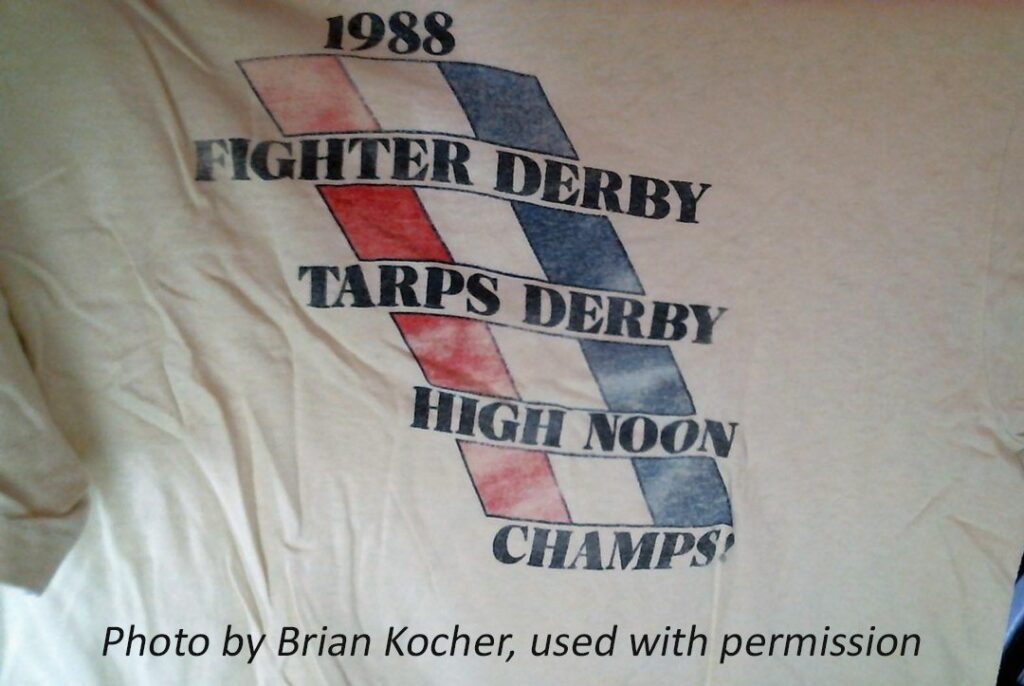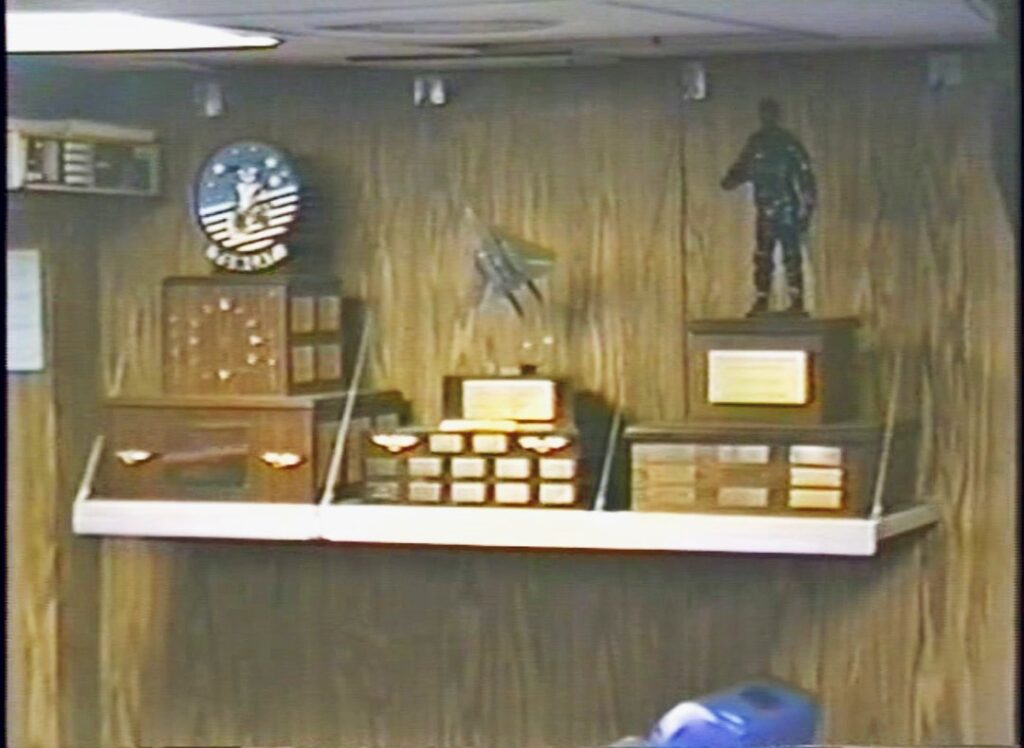 In 1989, VF-2 deployed as planned from February through August. After returning to Miramar we aggressively pursued awards by competing in Fighter Derby, TARPS Derby, and High Noon. We did well, but as the saying goes, there are no points for second place. 
Author Dave "Bio" Baranek's latest book Tomcat RIO is now available. There's more to the story of competitions and awards, and it's told in chapters 15 and 16.
NOTES:
"Boola Boola" was the radio transmission for shooting down a drone.
The Boola Boola was a West Coast award, but there was a parallel award on the East Coast known as the Grand Slam.
At least one website shows VF-2 as the winner of the 1988 Battle E, but I've researched squadron histories and aircraft photos and I am pretty sure we did not win the 1988 Battle E.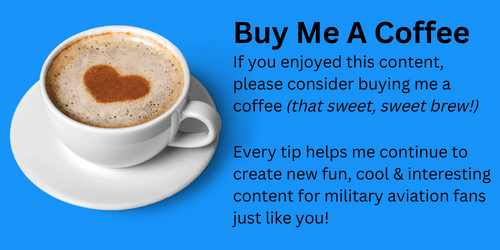 Want More Military Aviation Goodness?
Join us in our private Facebook group where you can enjoy the company of other likeminded military aviation fans, including a growing number of former & current military pilots, Radar Intercept Officers (RIO's) and Weapon Systems Officers (WSOs).
Plus, get access to our videos and livestream content, all free of charge.
Click this link or the photo below to join.