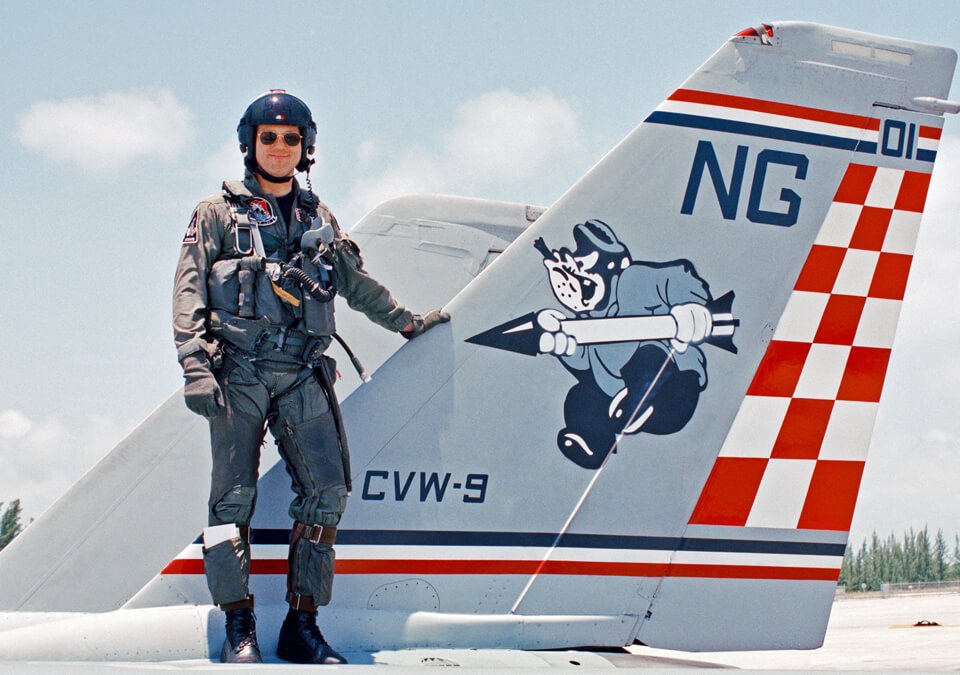 Bio's Bio
Dave Baranek was born and raised in Jacksonville, Florida. As a kid he spent a lot of time drawing airplanes and putting together scale models from kits, fueling his dream of flying jet fighters. For years he was undecided whether to pursue a career in the Air Force or Navy, choosing the Navy when given an ultimatum. He attended Georgia Tech and participated in the ROTC to qualify for officer training, then entered the Navy in 1979.
When his eyesight deteriorated from 20/20 he could not become a pilot, so instead he became a radar intercept officer (RIO), operating the weapons system in the Navy's hot new F-14 Tomcat fighter. He spent about one year training at Pensacola and then eight months in the F-14 training squadron at NAS Miramar, and joined his first squadron — VF-24 Fighting Renegades — in April 1981.
He needed a callsign and his last name rhymes with the word "bionic" (among other words). But one of the pilots he flew with shortened it to "Bio," and that callsign stuck.
He attended the Navy Fighter Weapons School in September 1982. He notched his 1,000th F-14 flight hour in August 1983, less than three years after his first F-14 flight.
Bio was selected to become an aerial combat instructor at the elite Navy Fighter Weapons School, better known as Topgun, and joined the staff in August 1984.
His lectures were F-14 Combat Intercepts and Maritime Air Threat, which was part of the Fleet Air Superiority Training program.
While serving as an instructor in 1985, he flew in aerial sequences used in the film "Top Gun," starring Tom Cruise and produced by Jerry Bruckheimer. He also traveled to Paramount Studios as a dialogue advisor on the project.
Upon completing his Topgun instructor tour, Bio joined the VF-2 Bounty Hunters, where he added TARPS (reconnaissance) to his qualifications. He was with VF-2 from May 1987 to February 1990.
He then served as an action officer on the Joint Staff and US 7th Fleet.
In 1996, Bio reported to the VF-211 Fighting Checkmates and served as Executive Officer and Commanding Officer (CO). As CO he was responsible for nearly 300 people and 14 aircraft worth about $700 million. VF-211 completed a deployment to the Persian Gulf, Bio's fifth deployment, and supported Operation Southern Watch.
Bio retired from the Navy in 1999, and now works as a defense contractor.
After retiring, he wrote the exciting memoir TOPGUN DAYS, which describes his early flying experiences, including working on the movie "Top Gun." He then wrote BEFORE TOPGUN DAYS, detailing his experiences in Naval Aviation training. His third book, TOMCAT RIO, was published in August 2020.
All books include many of his acclaimed photographs.
He is married and lives in Satellite Beach, Florida. His website is www.TopgunBio.com.
Follow Bio
To be alerted about Bio's new articles, videos, books and other military aviation related content, just enter your name & email address into the form below and click the button.
You'll receive emails from us every time we publish something new from Bio, as well as other new and interesting military aviation posts we think you'll enjoy.